Spectrophotometer Cells, Flowcell Type 584.4
Short Pathlengths, Tall Aperture, Threaded Connectors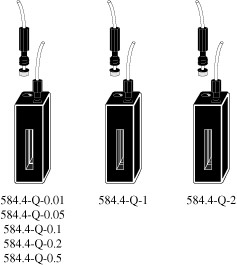 Description:
Starna Spectrophotometer Flow Cells
Physical Configuration:
Fully masked cell with rectangular aperture, other dimensions see charts below, optimized for the lowest volume.
Primary use:
Absorbtion measurement in useable range (see charts below)
Clear windows:
Two
Instrument:
Designed for use in spectrophotometers with a beam width up to 4 mm
Path lengths available:
0.01, 0.05, 0.1, 0.2, 0.5, 1, 2 mm
Aperture dimensions:
4 mm wide x 17.5 mm high
Available "Z" dimensions:
Works with Z=8.5 and Z=15 mm, for Z=20m use catalog number ending in "/Z20"
Click here to check the "Z" dimension for your instrument.
Usage note:
The cell sample compartment must be correctly aligned in the instrument light beam. Type 584.4 range cells have long sample compartments, therefore a 15 mm "Z" dimension is also suitable in an instrument with an 8.5 mm "Z" dimension.
Connections:
The internally threaded jacket matches the M6 threaded connectors supplied, to make a secure connection tested to 75 psi. Click here for specifications.
Window material: Spectrosil Quartz or equivalent, useable range: 170 to 2700 nm
Starna
Path
Exterior
Interior
'Z'
Nominal
Number
Catalog
Length
Width
Length
Height
Width
Length
Height
Dimension
Volume
Polished
Number
mm
mm
mm
mm
mm
mm
mm
mm
ml
Windows
584.4-Q-0.01
0.01
12.5
12.5
35
4
0.01
17.5
8.5&15
0.036
2
584.4-Q-0.01/Z20
0.01
12.5
12.5
35
4
0.01
17.5
20
0.036
2
584.4-Q-0.05
0.05
12.5
12.5
35
4
0.05
17.5
8.5&15
0.039
2
584.4-Q-0.05/Z20
0.05
12.5
12.5
35
4
0.05
17.5
20
0.039
2
584.4-Q-0.1
0.1
12.5
12.5
35
4
0.1
17.5
8.5&15
0.041
2
584.4-Q-0.1/Z20
0.1
12.5
12.5
35
4
0.1
17.5
20
0.041
2
584.4-Q-0.2
0.2
12.5
12.5
35
4
0.2
17.5
8.5&15
0.047
2
584.4-Q-0.2/Z20
0.2
12.5
12.5
35
4
0.2
17.5
20
0.047
2
584.4-Q-0.5
0.5
12.5
12.5
35
4
0.5
17.5
8.5&15
0.095
2
584.4-Q-0.5/Z20
0.5
12.5
12.5
35
4
0.5
17.5
20
0.095
2
584.4-Q-1
1
12.5
12.5
35
4
1
17.5
8.5&15
0.120
2
584.4-Q-1/Z20
1
12.5
12.5
35
4
1
17.5
20
0.120
2
584.4-Q-2
2
12.5
12.5
35
4
2
17.5
8.5&15
0.240
2
584.4-Q-2/Z20
2
12.5
12.5
35
4
2
17.5
20
0.240
2